Love as Contagion
by Susan Boskey
March 2023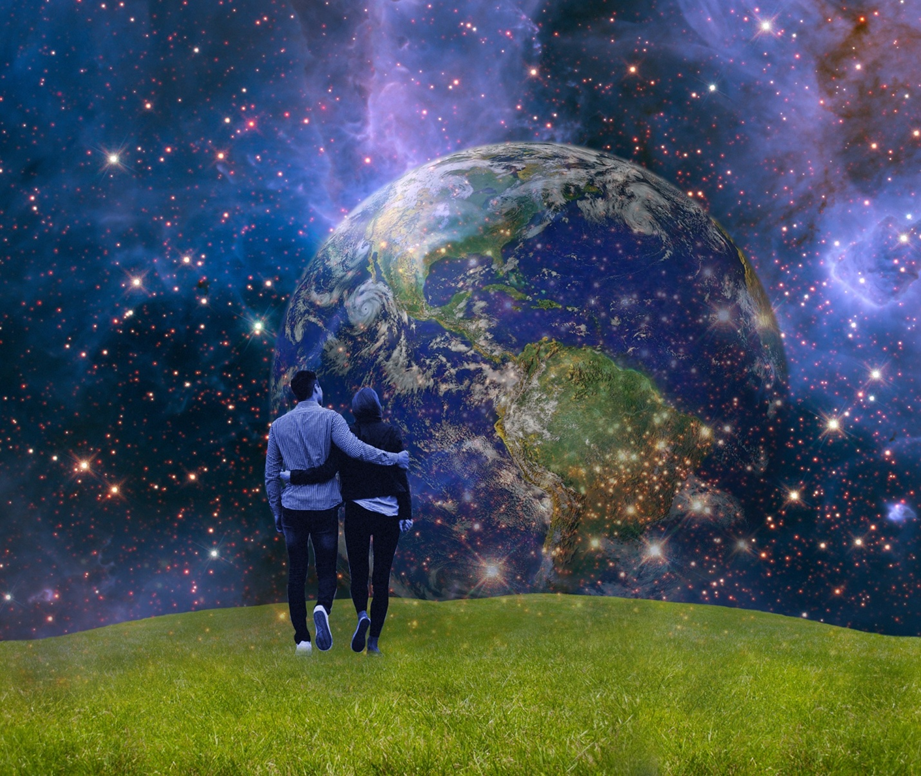 I state the obvious when I say that we live in a materialistic world. It is not just greed and the insatiable thirst for more, but also how the predominance of a scientific ideological paradigm influences and limits reality to the five senses. Does that mean that if something cannot be seen, heard, touched, measured, smelled or tasted, then it's not real?
The invisible world of Spirit defies measurement so does that mean it is in-credible?
To my primitive understanding, quantum physics, as related to consciousness, offers an entirely different view from conventional science: Absolutely everything is energy vibrating at different rates of speed while emanating from one same and single source. Energy is in constant motion, and so is also always changing, meaning that only change is permanent.
There is a price to pay by limiting oneself to the physical dimension. Qualities freely available, such as unconditional love, wellbeing and creativity are meant to be at the core of our daily existence. Yet exclusive focus on materialism has had the effect of pushing these freebies to the fringe; the proposition that such God-given qualities can be gained via people, places and things turns out to be a counterfeit.
We are born captive to a materialistic world within which our parents, family and community were already a part. We learn, mostly in an unspoken matter, about the expectations of those in our environment. I call this an agreement field, if you will, passed down to us like the air we breathe. For myself, by the time I was 20 years old I was no longer comfortable in the world I was born into. However, neither did I have a clue as to what that meant or how to proceed beyond rebelling against what I could no longer agree to nor accept.
Agreement Fields and Their Fluidity
I would argue that once someone sees through to the fluidity of familial and cultural agreement fields they then stand at a Y in the road. The choice becomes clear: to either go forward accepting one's original family/social frame of reference with all its beliefs, benefits, problems and solutions, or dare to risk it all by adventuring outside one's known reality for truth and love.
Neither the choice of staying with or leaving one's original agreement field is right or wrong. They both remain in the physical world but have their own unique set of plusses and minuses. Since I chose to risk it all and go my own way, I learned by trial and error what it meant to be on my own while living with a sense of being deeply misunderstood. I eventually did my best to sort things out and find ways to reestablish family connections. Naturally I wasn't always successful, and took it upon myself to learn the ways I was part of the problem.
As YouTuber Lorie Ladd says, and I also believe: each of us is designed to live in the body from our highest version. And, to me, that highest version is being in alignment with my Higher Power. But until I saw the system of beliefs I was born into, and bought into, the idea of having a choice made no sense at all.
At one time or another in our lives many of us have been willing to abide by the (often hard to recognize) expectations of another or a system, for the purpose of being loved and accepted. Given that I view the human ego as the unconscious, default operating system, I would also say that its default behaviors and actions are generally assumed as normal. As such, expectations of how we (could) treat ourselves and each other never seem to get out of the basement.
To become my best version I answered the call to have God at my core. As a result and over time, my personal agreement field/lens on life keeps shifting from my little "I-me-mine" to being absorbed into the larger, who I really am. This shift has required a clear and independent intent on my part since I have found little encouragement from society to seek it.
Humility is Key
As far as I can tell, who we each are is the essence of infinite love pulsating within the invisible, energetic space inhabited by the body; a gift that must be directly discovered by the inhabiting human. No other human has the power to give it. Oddly it seems that sometimes a crazy breakdown or a broken heart can effortlessly release one's soul to the wonderful, and sometimes overwhelming, inner experience of unconditional, infinite love.
Humility, however realized, can open awareness to a new state of being due to something larger acting on our behalf as deep personal peace. I am safe in God's love for me and it's not a fantasy. I let go and trust. When I am stuck in a certain dark cobwebs of my own psyche, and then do see it, letting go happens simply as I am honest with myself.
Light streams in to fill my once, now revealed, unconscious piece of darkness. The more I recognize and own my limiting beliefs the more my Higher Power infuses my state of being. I renew my identity with the eternal universe and the love that moves the sun and the stars.
World Peace?
It occurs to me that each and every human can choose to become the vessel of, and vehicle for, loving kindness. Infinite love is the contagion. Unlike other contagions this is the one everyone wants, and that spreads exponentially like wildfire. Nonetheless, similar to how being caught in materialism comes at a price of spiritual connection, infinite love comes at a price of no longer running from the mind's darkest recesses.
I have had people tell me that this – one love-filled human at a time – approach to world peace is too slow. Don't believe it. War and winning wars has never been the solution for enduring peace and freedom. Governments have become dependent on war as their economic engine.
I am secure in knowing that the ever-evolving personal state of being is that which ultimately creates unwavering personal and world peace. Considering concentric circles, we can choose to go from the outer ring (suffering and loss) to the innermost one of receiving our true nature ( love and kindness). This precious choice is free and available to all.
Radical self-responsibility is born of realizing the transformative power in NOT resisting what is. When we stop running from the human condition of suffering, we can decipher the content of our limiting beliefs. One love-filled human at a time not only eventually reverses the darkness within to new states of being but also opens new possibilities that affect our friends, family, the collective and the planet. Love is the contagion we've all been waiting for.