God's Ventriloquists: Spiritual Malware and the Dismal Prison it Creates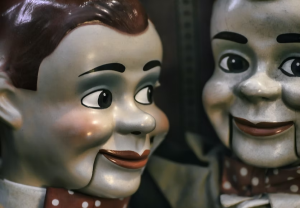 by robert cinque
The ugly truth is that world is ruled by dark Luciferian Occultists and we go along with them and drink their poison. The Black Sorcerers in the bowels of the Mossad and CIA and Pfizer continue to cook their foul brew and serve it up to a naïve humanity through the Mockingbird Media, the World Health Organization and the World Economic Forum. The Satanic halftime show at the Grammy Awards is one small bit of evidence that Occult Technofascists rule the world.
The chief weapon of the Vampire Kontollerz is False Narrative. Mental malware. Deception. Lies that divide and conquer.
It goes like this: You're fucked. We have the solution.
You're fucked because you
1 Were born in Original Sin. Solution: Take orders from God's Ventriloquists
2 You are genetically flawed. Solution: implant a neural uplink to Artificial Intelligence
3 Ruthless terrorists hi jack airplanes and destroy Skyscrapers. Solution: Invade Afghanistan and Iraq and destroy all enemies of Israel.
4 Contagious viruses have infected billions of people. Solution: Inject mRNA nanoparticles into the blood and genetically reprogram human DNA, mandate lockdowns, masks and social distancing.
5 The planet is heating up. Solution: Outlaw carbon dioxide, block out the Sun, prevent industrialization of 3rd world nations, penalize carbon footprints
6 There are too many people on the planet. Solution: Mandate vaccines that create the diseases they purport to prevent, along with infertility. Contaminate the food supply with GMOs and mRNA nanoparticles, pesticides, antibiotics, aspartame, fluoride.
7 Financial markets are unstable and lead to Depression. Solution: Issue fiat currency out of thin air from a privately owned bank, loan it to governments, collect trillions of dollars from interest payments collected by the IRS.
"The world is not ruled by Kings and their armies. The world is ruled by ideas"
Confucius
The reason humanity is in chains is because there are not enough people who understand that freedom is the Natural State and is kept in place as a result of our Moral Obligation to refuse ALL forms of slavery.
We don't deserve world peace because we tolerate slavery and injustice.
World peace will arrive when our childish naivete and gullibility are replaced by adult self- ownership and moral responsibility, not until. Freedom and peace are not possible without morality.
Freedom and Happiness are always at the center of Reality but we allow them to become obscured by our enthusiastic willingness to believe Lies.
"If you want to be enlightened, stop believing lies"
Jim Humble
Moral obligation comes from love. Without love, morality would not and could not exist. This means that the problems in the world stem from a lack of love and caring. If Ukraine loved Russia and cared about her needs, it wouldn't allow itself to be used by NATO and become a threat to the Russian people.
If Pfizer and the WHO loved us they wouldn't inject us with toxic metals and gene altering mRNA nanoparticles. If we loved ourselves, we wouldn't let them. If they loved us, they would tell us to eat healthy food and get lots of sunshine and rest.
If the governments loved the people and the planet, they would release the clean energy technology they stole and make fossil fuels obsolete.
If the Media loved us, they would not take orders from the CIA and Pfizer.
If we loved ourselves, we would not let others do our thinking for us.
It is our job to find out what is true, but we abdicate our responsibility and let others do our work for us.
This must end and we must end it.
We are the 8 billion. What we say, goes. For better or for worse.
If a few Dark Occultists can transform this beautiful planet into a swamp and a desert and garbage dump, imagine what a few billion of us could do if we installed some Realware into the Narrative.